Woman #Farmer in #Maharashtra Commits #Suicide Unable to Watch Her 5 Children Starve
September 8, 2015
Maharashtra, September 07, 2015
40-year-old Manisha Gatkal, a farmer in Maharashtra's drought-hit Marathwada region committed suicide by burning herself to death. Her crops had failed and faced with 5 starving children, she felt she had no other option. When reporters got to her house, they found the family still had no food. The children, the youngest about three years old, huddled outside around their father who said "We are really very poor. The harvest failed because of the drought. There was no food. I had no work… When I got some work I went out. She locked the door and killed herself." This is the third straight year of drought in Marathwada, where 628 farmers have committed suicide in 2015. Last year, 574 farmers had killed themselves in the region. The government generally records only the suicides of male farmers. But as Manisha's death proves, there are women farmers who out of desperation are also committing suicide.
In March 2015 Rukhmabai Rathod of Akola village committed suicide by consuming pesticide. She had run her 6-acre farm single-handedly after her husband's death in 1992, even though she was  uneducated.  For 23 years she farmed her land, decided what to sow, how much to spend and stood her ground with banks and creditors. Yet in March, after more than two decades of shouldering responsibilities, Rukhmabai's courage ran out.  Saddled with farming debts worth Rs 3 lakh, she swallowed pesticide and died at home.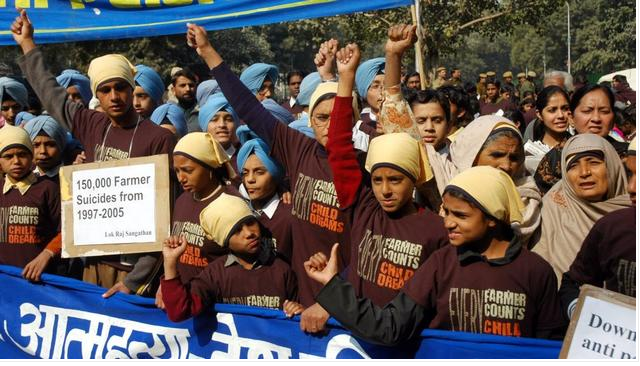 The cotton belt of Vidarbha reports the highest farmer suicides in the country, but the distress of women cultivators is rarely recorded. "Suicides by women farmers are less common but not that unusual. But they don't get recorded because women are often landless or the land is not in their name," says activist Kishor Tiwari of the Vidarbha Jan Andolan Samiti.
As many as 1,646000 rural households in Maharashtra are headed by women, according to the Census 2011. This accounts for 12.5% rural households. In fact, the rise in suicides among male farmers in the state has led to their widows bearing the burden of running both the home and the farm. Yet only 126 suicides by women farmers in Maharashtra were recorded by the National Crime Records Bureau in 2013, compared to 3,020 by male farmers. "In most cases, suicides by women farmers are classified as dowry deaths or accidents," says Tiwari.
Rukhmabai is among the few women cultivators here whose death has been classified as a "farmer's suicide" perhaps because her farm was in her name. Her family is eligible for state compensation. "I don't remember a time when my mother was not working," says Rukhmabai's son Nagorao. In fact, in all farming families, it is women who do the bulk of jobs like sowing and weeding.
http://www.ndtv.com/india-news/unable-to-feed-5-children-woman-farmer-sets-herself-on-fire-in-drought-hit-marathwada-1214863
http://timesofindia.indiatimes.com/india/Records-may-not-show-but-women-farmers-dying-too/articleshow/47314082.cms